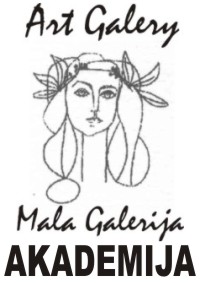 Gallery of Paintings!

Visit our Gallery!

If you have any questions, please contact us at our e-mail address: malagalerija@yahoo.com!
Our MALA GALERIJA AKADEMIJA (Little Gallery Academy) is located in Skenderija, in downtown.
Mala galerija Akademija provides the sales of the paintings of the contemporary artists just as the works

of the old masters from Bosnia and Herzegovina.
The payment can be made at your convenience through the bank account, with a credit card or in cash.
Affordable prices and our kind staff at your service should make your visit to
MALA GALERIJA AKADEMIJA memorable and you will certainly wish to visit us again.
Contact:
Economic City Skenderija
Sarajevo, 71000
Bosna i Hercegovina
+38761157950 begin_of_the_skype_highlighting
+387 61 157-950

+387 60 339-7414

+387 33 201-787